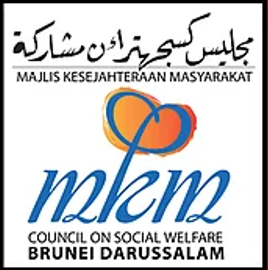 Majlis Kesejahteraan Masyarakat (MKM) or Brunei Council on Social Welfare was established to help complement and supplement efforts on social welfare programs, initiatives and activities made by His Majesty's Government of Brunei Darussalam. It was registered under the Registrar of Societies on 2 December 2009.  The 1st Annual General Meeting was held on 12 March 2010.
​The Council's primary objectives are to address social issues in the country and help coordinate the efforts of the various NGOs committed towards improving the welfare of vulnerable groups in Brunei Darussalam. These objectives will be achieved through training, guidance, awareness campaigns and research.
During the First Executive Meeting held last 21 March 2010, the Council agreed to address the social issues of the following five core groups namely a) CHILDREN b) PERSONS WITH DISABILITIES c) ELDERLY  d) POOR/NEEDY  and  e) VULNERABLE FAMILIES.
Learn more about MKM through their website, and connect with them via facebook.