Kwenta Kwentuhan Kababaihan (2022)
Ang Kwenta Kwentuhan Kababaihan ay  Information, Education, and Communication (IEC) Material ukol sa mga kwento ng mga karanasan ng kababaihan at ng batang babae, partikular na ang karanasan nila sa pagkakahon o gender stereotyping, diskriminasyon, at karahasan. Ang materyal na ito ay resulta ng mga serye ng capacity building at ang dati nang idinaos na National Girls' Camp na isinagawa ng WLB kasama ng mga kababaihan at batang babae sa mga kasosyong komunidad nito, na naglalayong palutangin ang kanilang mga kuwento at boses.
Maaaring mabasa ang kabuohan dito.
Upholding Women's Strengths and Access to Justice in Disaster: Narratives of Women Survivors of Typhoon Yolanda in Samar and Leyte (2017)
In line with the project entitled Access to Justice for Women's Economic, Social, and Cultural Rights (ESCR): Enhancing capacities of marginalized groups of women to advocate for women's rights in the context of disasters, a project implemented from February to October 2016 by the Women's Legal and Human Rights Bureau, Inc. (WLB) in partnership with Christian Aid Philippines, a documentation of issues, challenges, and experiences of marginalized groups of women in exercising their ESCR was created.
Read more here.
Study on ICT, VAW and Sexuality: A Policy Advocacy (2014)
ICT (information and communication technology) has transformed and revolutionalized Filipino society; it has transformed not only political and economic systems and social interactions, but as well as culture. Through e-commerce, private companies have dominantly benefited from the convergence in applications, content and interactivity of ICT. ICT provided means to ensure efficient basic service delivery and good governance (transparency and accountability), albeit its uneven application in the bureaucracy. Social networks have greatly affected the manner by which Filipinos interact and communicate. In fact, the Philippines is found leading in the Asia Pacific in terms of Social Networking Sites (SNS) engagement.
However, there have been documentations of increasing violations and crimes committed and perpetrated through ICTs. These are realities on the ground, supported by articles and studies. Alongside these harms, ICT having provided spaces for women's empowerment and exercise of their rights to sexuality and self-expression cannot as well be discounted.
In the light then of these, there is more reason to conduct a study and research on ICT, VAW and Sexuality. There is a need to look into the role of ICT in the perpetration of VAW as well as in terms of providing spaces for women's empowerment and exercise of their rights to sexuality.
Read more here.
Addressing Rape in the Legal System: A Multidisciplinary Training Manual (2005)
This Manual hopes to contribute to efforts to facilitate the systematic interaction of the law and relevant disciplines in addressing the problem of rape. It hopes to serve not only the need to utilize other disciplines in providing appropriate responses to rape cases, but also, more significantly, the more strategic need to challenge many legal assumptions and postulates that do not reflect, and in fact deny, the experiences and realities of survivors of rape. 
Read more here.
Human Rights, Women's Rights, and the Law (2003)
This booklet was conceptualized and developed to give readers an orientation on women's human rights, and the international and Philippine laws relevant to them. The booklet also presents a framework with which to view laws on women, particularly as it addresses women's realities of discrimination and violence in the family, workplace, community and institutions. The law has the potential to empower women against gender-based discrimination and violence. However, it is also a reality that the law and the legal system themselves could be discriminatory against women.
This booklet is also translated into Cebuano, Ilocano, and Tagalog to widen the reach of information in the country. It is hoped that it will contribute to the continuing efforts of women to fight for and protect their rights, and seek justice for the violations of their rights.
Against Prostitution, for the Women in Prostitution: A Position Paper (1998)
Prostitution is a system whereby women's bodies and their sexuality are commodified and exploited to satisfy men's sexual needs. It is a system shaped and controlled by men and their and their representatives. Its modern day form is highly organized and extremely lucrative business. Its operations are undertaken under conditions that are highly exploitative and violative of women's rights and humanity. It is a kind of business that has managed to enlist State endorsement.
This position paper by the Women's Legal Bureau, Inc. for SIBOL (Sama-samang Inisyatiba ng Kababaihan sa Pagbabago ng Batas at Lipunan) covers the following topics; the collusion of the government and the business capitalist; the exploitation of women in prostitution; the norm of a male-defined sexuality; violence and sexual exploitation as the organizing principle of prostitution; and policy recommendations using the human rights framework.
Women's Health and the Law (1997)
This compendium of information was inspired by the need to understand the complicated weave of legislation, policies and programs related to women's health and advocacy in the Philippines.
The Chapter One of the book provides an overview of women's health situation in the Philippines. Women's life cycle does not only focus on reproductive and maternal roles. Women have significant stages like infancy, adolescence, adulthood, midlife and old age. In these periods, there is a prevailing system of gender-based social roles and expectations where women face health realities and problems differently from men. In Chapter Two, SIBOL (Sama-samang Inisyatiba ng Kababaihan sa Pagbabago ng Batas at Lipunan), a local legislative network that pushes for a women centered and women's human rights framework. This conceptual approach on women's health integrates concerns on productive health, sexuality gender relations, violence against women, women's human rights and overall sociocultural representation of women in contemporary Philippine society. While Chapters Three and Four provides the Philippine Government's commitments on women's health, international obligations and national legislation, administrative policies and programs.
Nothing About Us Without Us: Amplifying voices of marginalized sectors in Masbate, Samar, and Zambales (2019)
"Ang unang nawawala sa babae ay boses. Nawawala ang kapangyarihan ng salita. Kapag hinayaan ito, hindi lamang ito ang mawawala sa [babae]"

– Pagaduan, Maureen. (2018, September 07). Pagsasanay ng mga Lider-Kababaihan sa Samar. Ginanap sa Behotel, Tacloban City. Unpublished. [Paningit na salita ay mula sa nagsulat]
Matapos ratipikahin ng gobyernong Pilipinas ang CEDAW, maraming mga batas para sa karapatan ng kababaihan ang ipinasa sa Kongreso. Sa kabila nito, ang diskriminasyon, pagsasamantala, at karahasan laban sa kababaihan ay nagpapatuloy sa iba't-ibang larangan at espasyong kanilang ginagalawan.
Kaya naman para makamit ng kababaihan ang pangako ng mga batas na pantay na karapatan at ligtas na espasyo sa lipunan, ang unang-una nilang dapat maangkin ay BOSES – boses para maisiwalat nila ang araw-araw nilang karanasan ng diskriminasyon; boses para magkaroon sila ng espayo sa mga programa, proyekto, at mga usaping komunidad na apektado sila; boses para  makasama sila sa pagpapasya sa mga usapin sa loob at labas ng kanilang mga tahanan; boses para kilalanin sila bilang produktibong bahagi ng komunidad at ng buong lipunan at boses para
mapalakas ang kanilang samahan sa komunidad.
Maaaring mabasa ang kabuohan dito
In November 2007, the rape of Karen Vertido became the first individual complaint or "communication" known in the Southeast Asian region to be filed under the Optional Protocol of the Convention for the Elimination of All Forms of Discrimination Against Women (OPCEDAW).
The CEDAW Committee found that the Philippines violated Karen's rights under the Convention. The Government is supposed to provide Karen "appropriate compensation commensurate with the gravity of the violations of her rights" and to undertake a list of specific measures to address problems in legislation, rape prosecution and court practices that discriminate against rape victims. Significantly, the Philippines is, in effect, asked to make its legislation conform to the prevailing international jurisprudence on rape, such as, for example, the case of M.C. v. Bulgaria (by the European Court of Human Rights) and the decisions of the ad hoc tribunals for Rwanda and the former Yugoslavia.
Read more here.
Isang Sulyap sa Anti-Violence Against Women and Their Children Act ng 2004 (2004)
Ang booklet na ito ay sadyang ginawa para sa forum, "Kababaihan at ang Batas: Isang Forum tungkol sa Bagong Anti-VAWC Act" na inorganisa ng Women's Legal Bureau, Inc. (WLB) at ng SIBOL network, noong ika-5 ng Marso 2004 sa Hotel Rembrandt, Quezon City. Ang forum ay bahagi ng pagdiriwang para sa buwan ng kababaihan. Ngunit higit pa rito, ang forum ay isa ring pagpupunyagi sa tagumpay ng pagkakaroon ng Republic Act 9262 o ang Anti-Violence Against Women and their Children Act (Anti-VAWC Act) matapos ang isang dekadang pakikibaka ng SIBOL, kasama ang iba pang kababaihan sa Kongreso.
Maaaring mabasa ang kabuohan ng booklet dito.
The Family Code and Other Related Laws: A Primer for Women (2003)
In line with the advocacy of the Women's Legal Bureau, Inc. to empower women in using the law to protect and fight for their human rights, this booklet aims to provide basic information on women's rights  in the context of her family and intimate relations under the Philippine laws. The Family Code is the main reference for this booklet, and indeed, for many discussions on legal questions regarding the Filipino family.
Furthermore, the booklet presents an alternative way to view the Family Code and laws in general. Knowledge of the law is important for women to protect and fight for their human rights. But it should not stop there, given that there are provisions in the law discriminatory to women, and women should also question the law and act to change it.
This booklet is also translated into Cebuano, Ilocano and Tagalog. The booklet is for every wife, single parent, and common-law partner who has not lost hope, or seeks hope, in the legal system.
Protocol of Feminist Lawyers in Handling Cases of Violence Against Women and Children (1998)
This protocol was developed in December 1998 for the Legal Advocates for Women Network (LAWNET), a Philippine national network of women lawyers and female law students committed to address violence against women and children.
The framework paper was intended to guide advocates- both lawyers and paralegals, in engaging in feminist legal advocacy on violence against women and other human rights issues. The paper is being used as a tool for organizing ethical and procedural guide for lawyers handling abuses against women and children in order to make provision for services that are appropriate, sensitive and effective.
Read more here.
Understanding Incest in the Philippines (1998)
This reference material provides an overview profile of reported incest cases in the Philippines. The reported cases, however, do not reflect the actual incidence of incest. There are circumstances and issues surrounding incest that hinder its reporting. This booklet further covers recommendations and list of crimes applicable to incest.
Challenging and Subverting the System of Prostitution (1997)
Prostitution is a system that perpetuates violence, exploitation and power relations. It is about the continued economic marginalization and cultural subordination of women and how society accepts and condones men's demand for sex and facilities their access to women's bodies. It is about the continued socialization of women to accept themselves as sexual objects, particularly when faced with limited economic options.
This book contains an overview of prostitution as a system and its mechanism that facilitates the growing industry. In addition, it provides rights of women in prostitution, identifies policy recommendation and outlines strategies in addressing the issue.
Hibi sa Kaagahon (1993)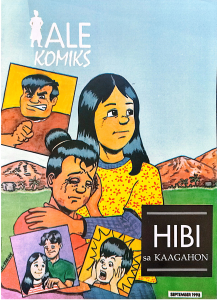 Maaaring mabasa ang kabuohan ng komiks dito.